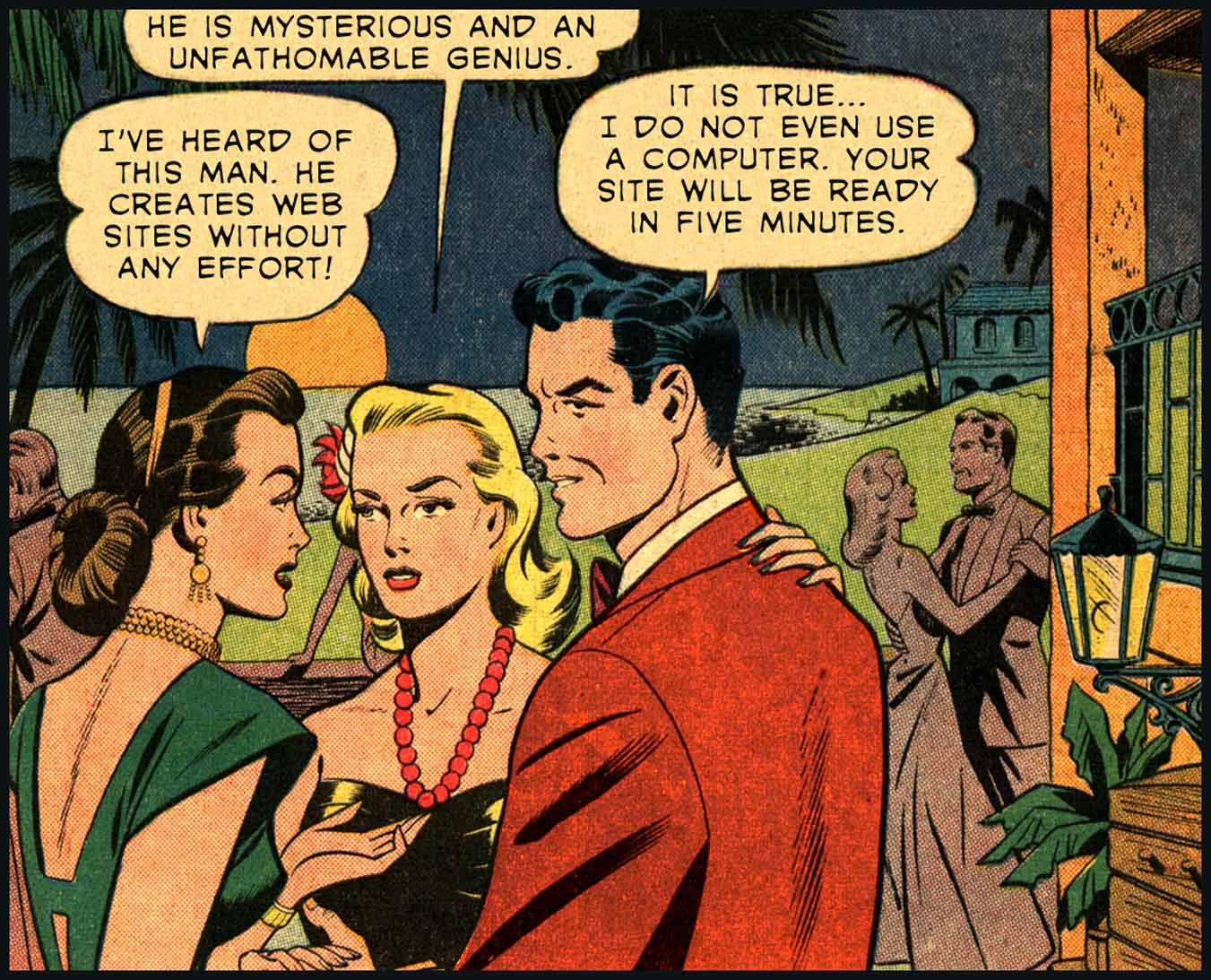 I've been building websites for about ten years, mostly for clients in Humboldt County, California, where Luminous Robots was started in 2006 after I earned my digital media degree from College of the Redwoods.
Every site I build is unique, and they have very rarely been made with any kind of existing template. However, there are some good templated systems that will reduce your cost substantially, and I'm starting to use them for assorted reasons.
Most of the pages here on my own site are vividly colored pop art, but any style can be commissioned. I usually build sites for individuals and small businesses. I don't build advanced ecommerce sites, such as sites with hundreds of products, but I can accommodate some types of ecommerce. I can make a site that you update yourself, or I can do edits for you. Contact me for a free initial consultation. We'll talk about your project and you can decide if I'm the right designer for you.
Sites today must be responsive design
Most sites I've made were before the era of responsive design. Today, all websites need to fit every size of screen. Wide sites are obnoxious to viewers with small screens, and that's an increasingly large audience. Responsive design means a site grows and shrinks and rearranges to fit any screen width. Sites built any other way are now becoming dinosaurs, and in most cases they should be replaced.
I don't have trade secrets
None. Not any. I'll teach you anything you want to know, and I'll show you how to edit and expand your site so you need little or no help once I get you going. Typically, a good way to start is for me to help you set the site up, and teach you some basics about page design and writing for the web. You'll learn to log into your site and edit it yourself, updating it any time you want. Or if you just need some information so you can build your own site, I'll be glad to help.
There are lots of ways to build websites
One of my main objectives is to give people independence, with little or no need to pay for professional help after their site is constructed. The quality of your site matters, and so does the content management system (CMS) that you use to edit your site. Sometimes a site looks great, but there are terrible problems under the surface.
I hand code some sites, but the changing terrain of the web means, in practical terms, that choosing a stable online site builder is a often a good idea. Experienced designers have always disapproved of all or nearly all online systems where you build a website with your browser. Most of these systems were just terrible, and there are still very few good ones today. There are two site builders that I think are far ahead of the pack.
Online site builders have advantages and disadvantages
There are many bad site builders. The advantages of good online website builders include
low price
steady monthly or annual cost
little or no need for a designer
responsive design (don't use a site builder that lacks this)
security is mostly not your problem
good quality hosting
good quality code that – this is huge – updates to keep up with changes in devices and browsers
a simple content management system (CMS) to edit and expand your site
and free support when you need help
The disadvantages are mostly in limitations. I can style a site any way you want if it's hand coded, but online site builders have a much more limited system.
The tradeoff is actually a good one, at least for small businesses and individuals that don't need an expensive, custom built system. And both of my favorite site builders have additional access to customizing tools for experienced web developers. But let's look at just the basic online editing capabilities, since that's how most people will use the systems.
The two best online site builders, in my opinion
My top recommendation among online site builders is Squarespace to build your own site. It's a simple system that's also very good quality, plus their support team is helpful and extremely fast. A reply to a support ticket often takes only an hour or two, which is far faster than any other online site builder that I know of. You can build a site yourself with fairly minimal computer skills, though getting started can be challenging. If you have moderately advanced general computer skills, you'll adapt to the Squarespace editor quickly. Alternately, a designer can speed up the building process and provide useful guidance for the site structure. See my review of a book about Squarespace below.
This site is built experimentally with Sitejam, which is one of the best and easiest online site builders, though a little knowledge of HTML and CSS are helpful with this one (though not required). Building in Sitejam Editor 7 is fast and flexible, remarkably simple (after a moment to acclimate) and it's weirdly good at making sites that look nice. Sitejam still has some minor bugs, including outputting some unnecessarily bulky HTML, which their support staff said will be fixed soon. Their support documents and videos are sparse, and their support staff is good quality, but slower than than lightning-fast Squarespace support. Also noteworthy: the system lacks blogging, but it appears to be coming soon, since instructions are already in the support docs. The team behind Sitejam has a track record of making solid online site editors, and Editor 7 is their best. In many ways, I like Sitejam better than Squarespace, but Sitejam still has a few rough edges, while Squarespace is solid and extremely well supported, making it a good choice for many users.
People ask for WordPress often, but I'm not a fan of either of their systems (WordPress.org and WordPress.com are different platforms, though related). WordPress is phenomenally popular, and it's essentially a great system, but I don't personally recommend it, especially to computer novices. I absolutely never recommend Weebly, Wix, or any other online system I know of.
A new book about Squarespace

This is currently the only book about using Squarespace 7 (the newest version). Squarespace expert Miko Coffey's very detailed and thick book (363 pages) covers just about every aspect of using the online site builder. You don't have to read it cover to cover. The best way to understand Squarespace is to just play around with it, but a comprehensive reference book is very helpful when you get stuck. It's also great at explaining the more peculiar aspects of Squarespace that you probably won't instantly grasp.
Online website building platforms have one central challenge: making their system easy to use, but also powerful. The reason professional web designers are often unenthusiastic about these systems is that simplicity requires the omission of infinite possibilities that designers are used to. No online site builder is anywhere close to the flexibility and power of custom coding a website. But, as pro designers often seem unwilling to admit, many people don't need an expensive custom website. They need something affordable, reasonably powerful, and up-to-date.
Some online site building systems have not kept up with changes in the way the web works. The most important missing aspect is likely to be responsive design, and Squarespace 7 handles this challenge quite gracefully, which is no small accomplishment. But the presence of that single feature is not enough to make a system truly great, and with every added feature, complexity creeps in. Squarespace has arrived at a good balance, but some of the most powerful and clever aspects of their current editor require a bit of study time. Miko Coffey's Squarespace guide is very helpful for understanding how to get the most out of the available tools, and flipping through a book (with a highlighter or pencil in hand) is often easier than clicking around through online help.
Tech books are a bit expensive because they have a short shelf life as the web constantly changes. At some point, this book will become obsolete, but that's likely to be at least a year or two in this case, and it's a purchase well worth the money. List price is $49.99 in the United States, but you might find a discount available if you subscribe to Miko's very informative email newsletter. Her writing is top quality, and she's thoroughly familiar with the Squarespace platform. Packt Publishing is known for excellent quality books, and this is a good addition to their lineup.
Here's the book at Packt Publishing
Here's Miko's excellent website
Before getting a site made, or choosing an online site builder, get informed
An initial 20 minute phone consult is free, and I never do high pressure sales pitches. I like to give people information and tools that will really help them, and I may not even be the right designer for your project. But I can probably give you some useful information and get you moving in the right direction. Send me a note and we can talk about your project.
The American Rabbit character is a trademark of Stewart Moskowitz and Stewart Moskowitz Media, used with permission. Image credit for illustration at top: Glamorous Romances #51, page 2, April 1951, artist (pencils) Lin Streeter