Pricing
Pricing for website design
Most websites I've made were under $1,500. In theory, a small site might cost less than $400 but usually a good looking site costs at least $600. A simple personal site that doesn't require custom graphics might actually be as low as $200. A larger budget is a big advantage because more time is spent on the project, but I can work with very limited budgets. These prices are for a full, working website. If I'm only designing the styling, and someone else is making your website, my price will be lower.
The cost will vary widely, mostly based on these conditions:
The size of the site and how complicated it is to plan the structure
Whether you have purchased a domain name (talk to me first, if possible)
Whether you need email at a custom domain, or just a gmail, yahoo, etc. email address
Whether you prefer a minimal budget or many samples of styling
The amount of photos and graphics you already have on hand
The quality of your photos, graphics, and text
Whether your photos and text are a pile of papers or already on a computer
Whether the materials you supply are well organized
The number of revisions and changes during the project
How much help you need with writing the text
Whether you have a logo or need one
Pricing for graphic design
Each project is unique, so these prices are just a rough idea of actual cost.
logo design: $200 - $1500
poster: $60 - $300
brochure: $200 - $500
business card: $70 - $180 (not including logo design)
letterhead: $70 - $180 (not including logo design)
T-shirt, single side: $80 - $300
Pricing for custom comics
Each project is unique, so these prices are just an estimate of actual cost. They would generally be higher if the comic has fewer than eight panels, if the scripting takes considerable time, or if you need to request revisions.
---
Made with public domain comics, clean vector lines: $80 per panel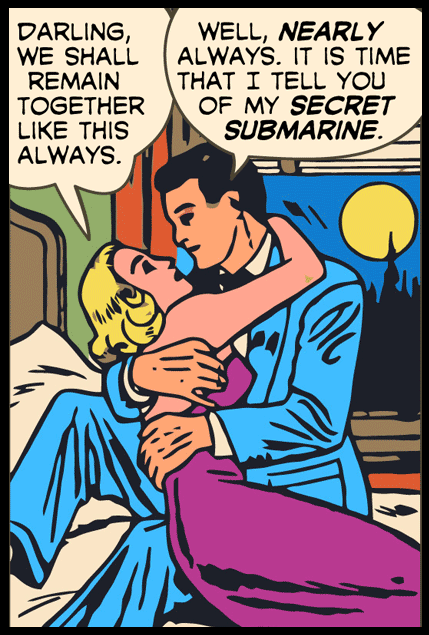 The $80 (estimate) option is made using vector art, but may be finished as raster art. This is suitable for most uses including fairly high resolution. If a vector file is needed for the final art: $160 per panel.
3D effect made with public domain comics, clean vector lines: around $140 per panel for web, $180 for print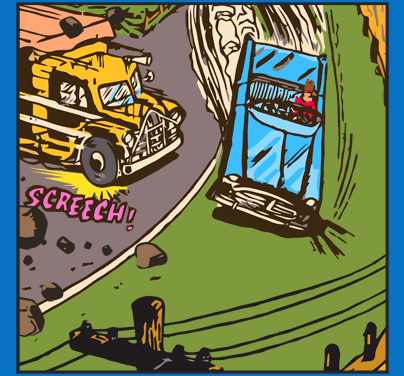 Web 3D can be smoother motion than the example shown here, but the file size is very large that way. Prints have smoother motion but some objects are a little blurry. The 3D effect can be added to nearly any other type of photo or graphic. Just tell me what you have in mind.

The price will depend on the amount of detail and the number of simulated depth areas. Some simpler work would be well below the price estimates above. A 3D poster would cost more than a 3D comic panel. These prices don't include printing costs. Small 3D prints are very affordable, as low as $10, though more than one proof print may be needed to work out the best depth settings and color before making the final print. Large 3D prints are expensive. A print approximately 3 x 4 feet is $420. In some cases I will add a small handling charge, such as for repeated proofs or postage, but I don't add a large markup to the actual cost of the print from the supplier.