Custom Comics
A custom comic strip or booklet is a very unique gift or promotional item. Any type of comic for print or the web can be made to your specifications. I'll work with you to create a detailed color comic book, or a short and simple black and white comic strip. The subject can be whatever you like, with the graphic design customized to match your theme.
Some comics are hand drawn, while others are composed from public domain sources. I usually alter the source material, including techniques such as vectorizing the art to create smooth, bright, pop art color. I always give the original artists credit when possible. On this site, image credits are at the foot of each page.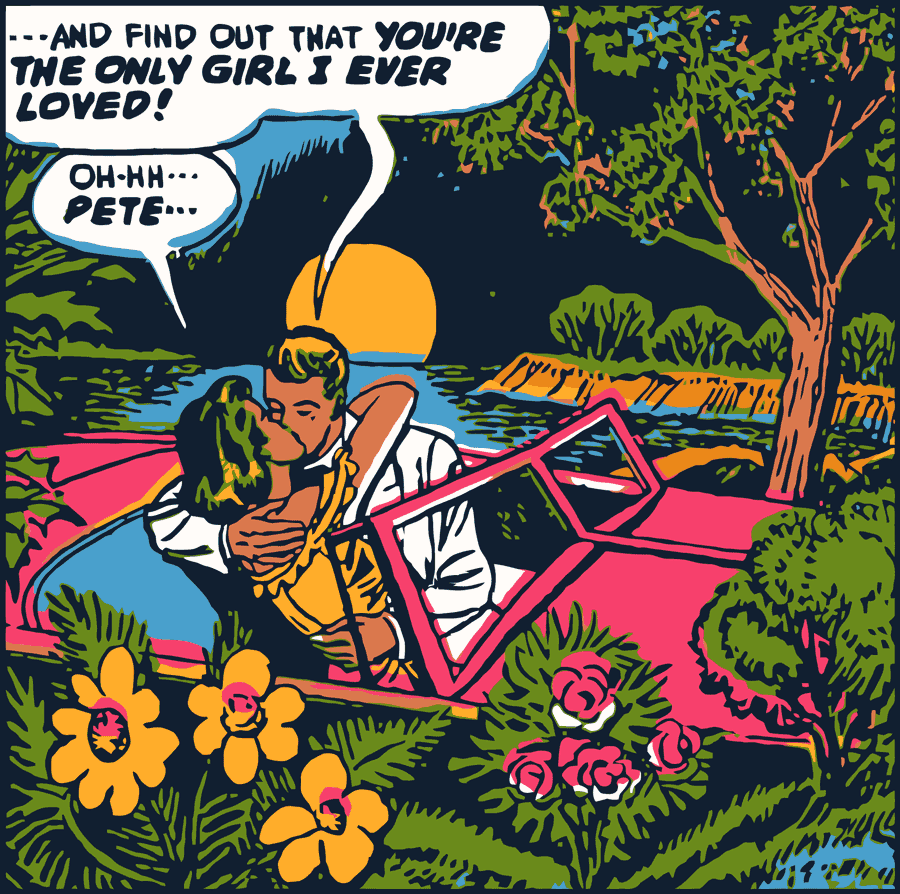 Sometimes, very simple lines are the most effective, and certainly the least expensive. The panel below is from Theo Goes to California, a quick custom comic booklet made as a birthday present. The recipient's friends passed it around, and I heard it was very well liked.

The panels below are from a comic booklet made for a retirement party celebrating the public service of a former police officer who later worked on youth advocacy. His co-workers looked for a graphic designer that could make them a custom comic book, then they threw a going-away party with a "super hero" theme. Custom comics begin with a discussion of the desired content. For the sample below, I wrote a 12-page booklet based on the individual's history and hobbies. I placed him in a mid-century group of crime-fighters that send him into the future to pursue his passion for public service.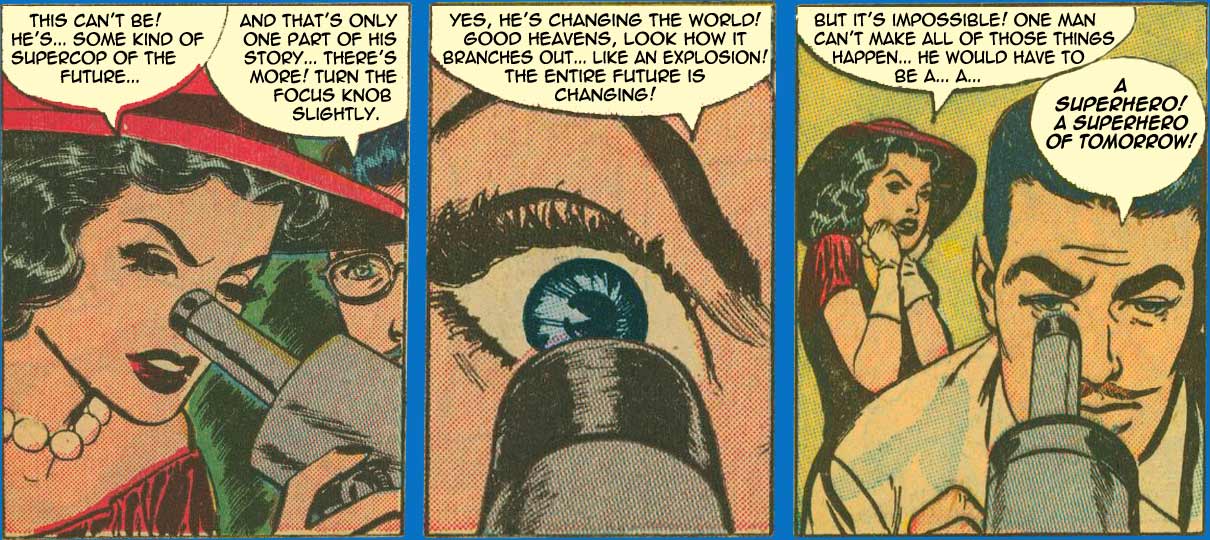 I tend to make unusual comics
Below, a comic that is turned over when you reach the end. When you flip it upside down (by clicking on it) you can continue reading the story. The cartoonist who originated this sytem, which is extraordinarily difficult to produce, was Gustave Verbeek. His Sunday comic first appeared in newspapers in 1903. Due to the massive amount of time involved in creating this type of story, a custom comic would be very expensive.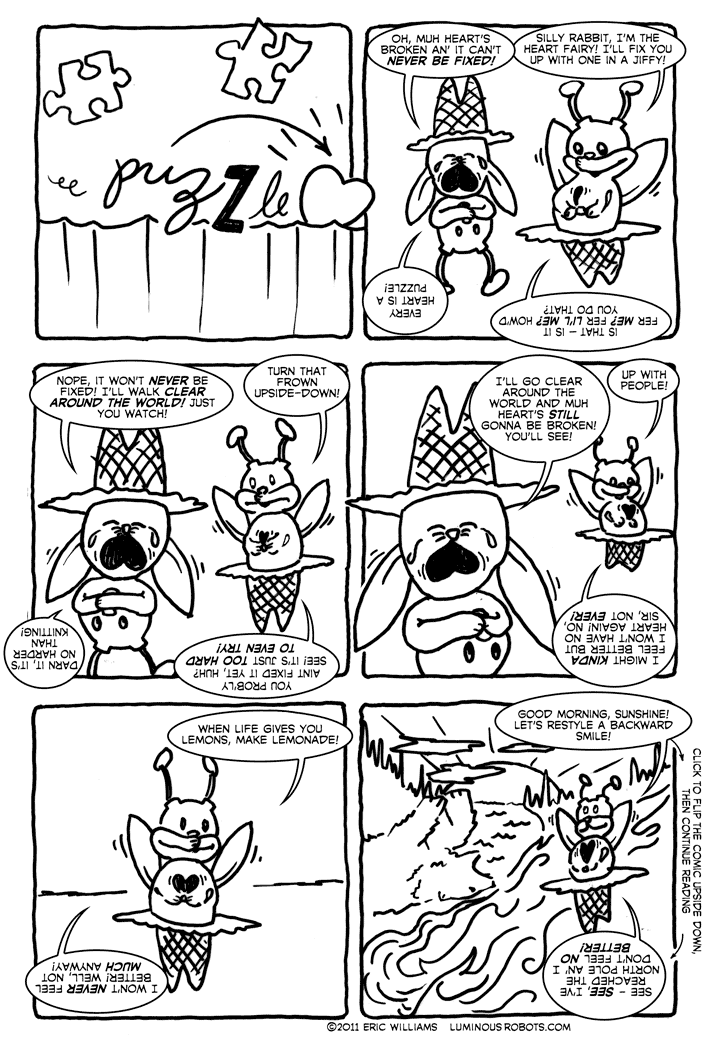 The pricing page lists the approximate cost per panel of various types of comics. If you have questions, I'll be glad to talk to you about your graphic design project. Just send me a note and describe a little about the project you have in mind.
Recombinant Comics
Many amazing mid-century comic book artists are largely forgotten today. I mix, combine, and alter panels from numerous comic books to create new single-page comics. Artist credits and links to the source comics are at the foot of every page. Contains dark humor and occasional coarse language.
A Vectorized Recombinant Comic Story
The story was actually never completed, but this is my most elaborate recombinant comic, with smooth, vectorized color, and lots of composite images. Some panels are composed of art from several sources, and art credits are included on each page. The American Rabbit Wakes Up is at theamericanrabbit.com.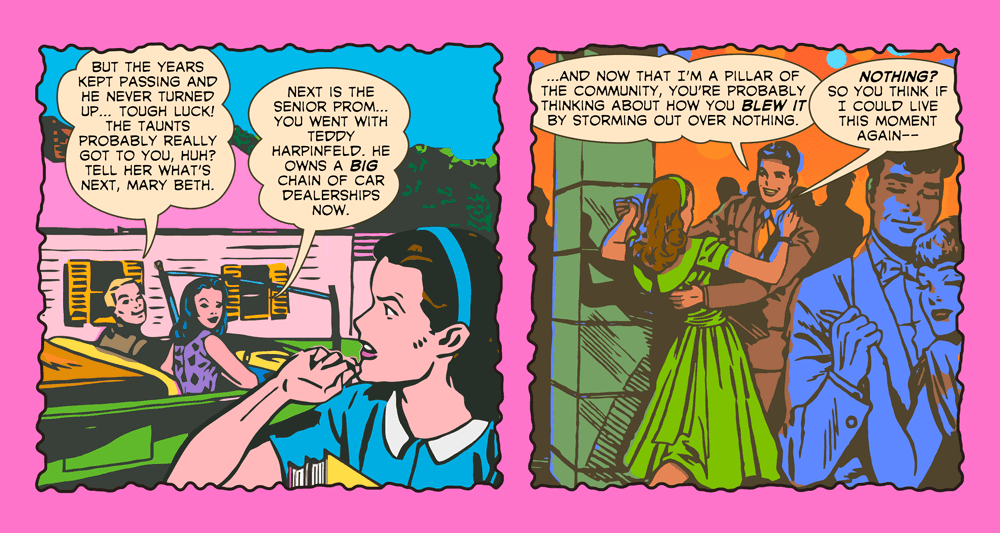 The American Rabbit character is a trademark of Stewart Moskowitz and Stewart Moskowitz Media, used with permission.
Image credits for this page: Close-up of woman in front of door: face: Adventures Into the Unknown #20, page 35 1951 artist Emil Gershwin; SLAM!: Adventures Into the Unknown #2, page 28 1948 artist Edmond Good; Door: My Secret Life #22, page 32 1958; brick wall: Lovelorn #12, page 23 1951 artist Juvelias or Johnalton? Man with bananas: Doll Man #11, page 21 1946, artist unknown. Kissing couple in car: Lovelorn #17, page 43, September 1951,Digital Comic Museum, JVJ collection, artist Paul Cooper. Man and woman using microscope: Lost Worlds #5, page 22 and page 23 1952 artist Nick Cardy. Bottom panels in pink frame: Teens in car: Romantic Adventures #1, page 4 1949, artist unknown. Surprised girl: Romantic Adventures #10, page 47 1950 artist Emil Gershwin. Dancing teens: Diary Secrets #11, page 4 1952 artist Matt Baker. All other art by Eric Williams.